A few years ago, I used to struggle with chronic acne which led me on a journey to researching a variety of all natural skin care products, routines, and even home made masks, and cleansers.
After lots of experimentation, I finally settled on the best organic and holistic, skin care routine that is gentle enough to work with my body instead of against it.
Why All Natural?
Regular cleansers strip your face of the natural oils on your face, which then leads to either dry skin, or overproduction of oil which makes your face really oily.
When I used to use commercial cleansers on my face, I would have to blot my face multiple times a day with oil blotting sheets to combat the excessive oils that my face was producing.
I used to think I had oily / combination, acne-prone skin, but it was just my improper skin care routine!
"The Power that made the body can heal the body" - Dr. Joe Dispenza
The truth is, our bodies are brilliantly designed. So the less we interfere with our body's natural abilities to maintain itself, the healthier we become.
Related: 5 steps to manifesting clear skin.
Saves Money & Time
Contrary to what you might think, using an all-natural routine is extremely cheap & affordable.
You DON'T need to shell out hundreds of dollars for expensive skin care products to have beautiful, glowing skin. In fact, I don't believe you need any commercial skincare product out there in order to do so.
My Current Skin Care Routine
Note: Some of the links in this post are affiliate links, which allows me to make a small commission from your purchase, at no additional cost to you.
I do this routine at night daily.
Removing Makeup / Cleansing
I use an organic oil I have on hand to gently break down mascara and any other makeup I'm wearing. Right now I use Now Solutions Organic Grapeseed Oil, then I remove it with a reusable cotton pad.
Sounds counterintuitive, but what I've learned is that like dissolves like, and that our skin actually needs oils. So if you're stripping away natural oils like with commercial makeup removers and cleansers, your skin has to overcompensate by producing more, hence the oiliness.
I've also noticed from using oils to remove my makeup, instead of a commercial makeup remover, actually has helped my eyelashes grow longer and healthier.
For the oil cleansing method, you can use any non-comedogenic oil such as grapeseed, sunflower seed oil, hempseed oil, or sweet almond oil. These are oils that are light and won't clog your pores.
For oily or acne prone skin, I recommend Crunchy Betty's tamanu oil for oil cleansing. This was the first oil I used with my acne and I still swear by this product!
Rinse
If I didn't put on any makeup that day, I skip straight to this step.
I turn on the cold water tap and rinse my face with the cold water, then pat dry with a clean towel.
Why cold water?
Cold water is refreshing, tones the skin, and slows the aging process.
Moisturize
Lastly, I take another little dab of my oil of choice, and massage that all over my face (and body).
I love grapeseed oil because its extremely light, and leaves your skin feeling silky and moisturized but not too greasy.
I also recommend rosehip oil as a moisturizer for extra dry skin or acne scars. It works great to diminish marks and even stretch marks! I use this in the winter time if my skin is feeling a little bit more dry.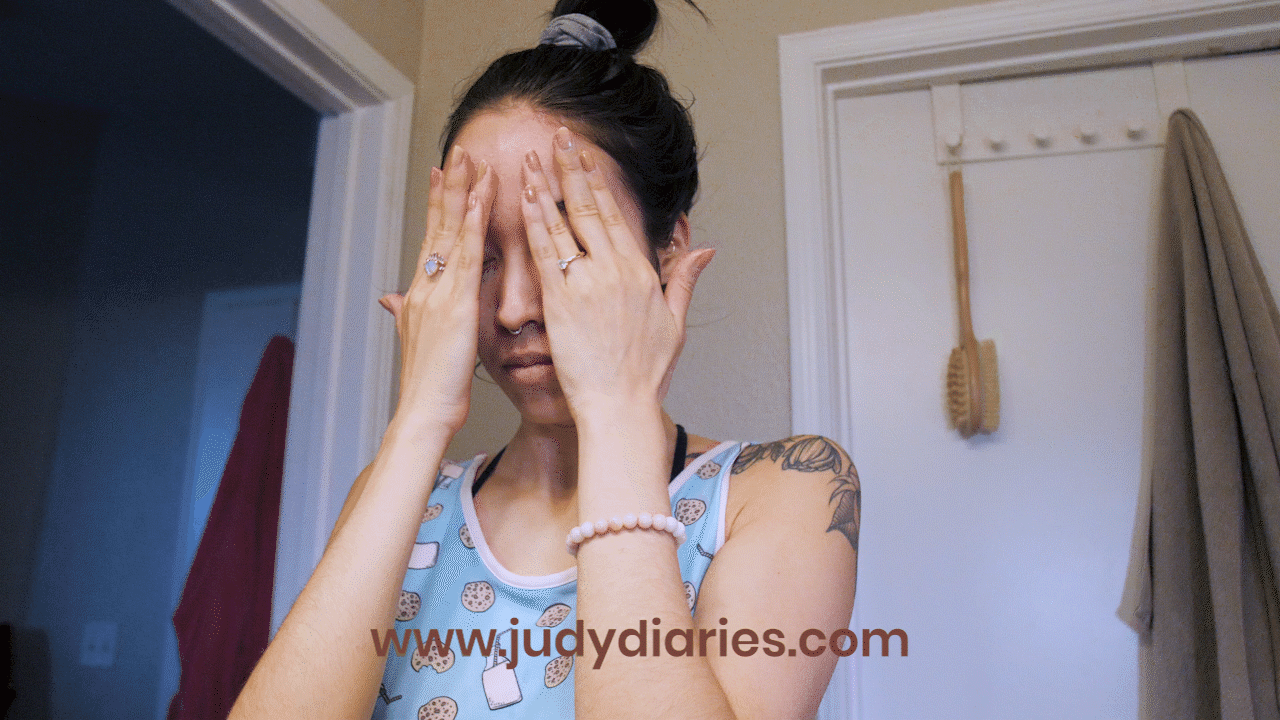 Masks
Every so often, I use an Aztec clay mask to get a deeper cleanse and detox for my skin.
I do this as needed, (anywhere from once a week to once a month) just when I feel like I have extra build up or I feel like pampering myself.
Switching Skin Care Routines
Going from regular cleansers and skincare products to going more natural, is going to take some time and patience for your skin to adjust.
I recommend changing up 1 part of your routine up at a time and allowing your skin to adjust between changes.
Your skin may break out when changing routines, but I encourage you to commit to exploring a more natural skincare routine.
Your face... and wallet will thank you!
Let me know what you think!
I still continue to experiment with different routines & oils. If my routines change or I try something that works better, I'll be sure to update this post. I know what it's like to struggle with acne, or other skin conditions and the frustration that comes so I hope this helped you out in any way.
If you try out this routine, let me know what you think! Also free free to drop any questions below or send me a message on any social media platform!
Also read:
Loved this post? Pin It to go back to it later! ~